a Nite in LaPiazza
24 April 2006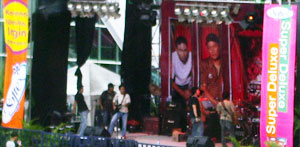 Dari balik jendela dan
rumput saat soundcheck
After a panadol in the morning, and two more in the afternoon, i finally able to stand up and headed to LaPiazza, Kelapa Gading. Although my head had a terrible migrane, but it can't stop me from having fun tonite.
Dateng dengan niat pengen seneng-seneng setelah kerja seminggu, gue bareng Nita dan Mega nyampe di Lapiazza jam 3. Cek lokasi ternyata ada band baru lagi Soundcheck. Panggungnya openair -seperti yang kita duga sebelumnya- di hadapan tangga-tangga, tempatnya oke, luas. Tapi berhubung kelaperan, kita makan dulu di foddcourt MKG 3 -yang jauuuhhh ya-, kelar makan balik ke venue, ternyata ADA udah mulai soundcheck. Tapi ada beberapa penonton juga yang udah masuk ke depan panggung dan foto-foto, sementara kita naek ke lantai 2 dan nonton ADA soundcheck dari balik jendela dan kealingan rumput-rumput raksasa pula.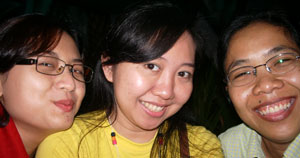 Before The Show
Jam 6 sore pintu masuk dibuka. Antrian nggak teratur -masih rapian di BTM- antrian dipaksa satu jalur, padahal penonton ngantri dari berbagai arah. Untung penonton gak banyak, dan lebih beradab dari pada konser sebelumnya, jadi bisa melenggang lagi masuk ke dalem (catet! di CAP di leher. Mas, kalo kulit leher gue iritasi piye?)
Sampe depan panggung, deretan depan pastinya sudah penuh. By the way, kita gak berminat diri di depan panggung lagi, karena pager pembatasnya setinggi pria dewasa..(2 meter??) giling. Eh atau ini permintaan ADA ya? secara gue pernah baca di Technical Rider's nya Cokelat ada point yang menyebutkan barikade ± 2m dari panggung gitu. Apakah pager besi tinggi itu adalah salah satu bentuk barikade permintaan ADA? Eniwei, instead of mepet-mepet di depan, kita nyari pager yang ada di sisi tengah panggung buat senderan.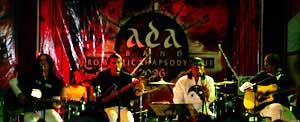 Moska (?)
Acara dimulai jam 7 lewat dengan MC yang sama seperti konser sebelumnya. Guess What? Ada Band Pembuka, namanya L….Kull .. something (gak kedengeran ..maap). Penampilan mereka buat gue membosankan. Bawain lagu baru kira-kira 5 lagu (oh punya album to).
Disaat band baru ini nyanyi, ujan boo.. dari gerimis sampe ujan mayan gede sampe-sampe kudu payungan segala. Di tengah band pembuka, gue keluar nyari toilet, on my way ke toilet, di Chatterbox yang letaknya di belakang panggung ada keramean, ternyata eh ternyata ADA nya lagi shoot untuk SCTV (dinner bareng itukah?) dan waiter baru aja nganterin minum untuk ADA (alamat shownya masih luama).
Balik dari toilet, band baru itu kelar perform. Kirain mah udah bagian ADA, eh ternyata Home Band LaPiazza tampil berikutnya, namanya MOSKA (kalo gak salah ini mah). Formatnya akustik, semua personil duduk di depan kecuali drummer. Mereka bawain lagu-lagu orang, cukup keren karena tiap personil dapet giliran nyanyi, even sang drummer.
ADA Band
Jam ½ 9, setelah MC muncul untuk yang kedua kalinya bagiin goodie bags, akhirnya yang ditunggu dan yang dinanti naek panggung juga. Untuk lagu pertama, ADA bawain -lagu gue! lagu gue!- Langit 7 Bidadari yang langsung disambut dengan -seperti biasa- loncat-loncat.. Meski saat gue loncat-loncat berarti gue gak keliatan Donnienya…abis orang-orang itu tinggi-tinggi ya *sigh*. Alhasil di tengah-tengah lagu, nginjek besi-besi pager supaya bisa ngeliat ADA, dan you know what? dirikuh kena tunjuk lagih! huehueheuehue sampe Mega heboh "Ditunjuk Lagi!" huehuehuehue … senangnyahh …
Entah kuping gue yang salah atau suara Donnie yang aneh atau Sound System yang kacrut -kayaknya yang terakhir nih- kok suara Donnie sewaktu ngomong dan nyanyi jadi lebih cempreng ya .
ADA Band
Belum lagi penonton .. duhhh lagunya enak buat loncat gitu. Donnie dan Dika udah loncat-loncat *tumben* kok penonton diem ajaa? gak gatel ya kakinya pengen ikutan loncat juga? Sementara kita udah lupa daratan, loncat terusss bodo amat diomongin sama tetangga sebelah, wong musiknya enak banget kok.. we're just really enjoy the show.
Sepanjang acara pijakan gue gak enak bo, kalo mau liat dan diliat sama ADA, musti mijak ke kaki pager which is cuman ada dua batang dan cuman muat ½ kaki ..*nyiksa* jadi kalo nginjek itu gak bisa loncat loncat cuman gerakin tangan ajah kanan kiri dan nunjuk-nunjuk gak jelas.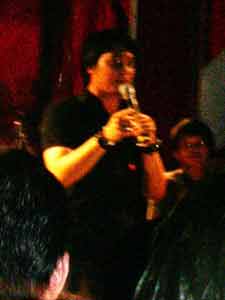 Donnie Sibarani
Berhubung gue udah mulai males foto-foto -jauh. Hasilnya pasti gelap- jadi tas gue taro bawah, kamera kantongin dan kembali bergembira ria bersama ADA. Entah ya -secara baru beberapa kali liat ADA- kok sepertinya Donnie jadi lebih centil niy *sotoy*.. senyuuumm terus, becanda terus .. garing terus *apa sih, Don??*, nyebut armada teruss -armada bukan di sayap kiri doang lowh *wink wink*-. Lagi in a Good Mood kayaknya nih apa karena banyak armada yang berwujud bidadari-bidadari cantik mengelu-elukan dirimu? Kostumnya juga Okeh berat. Kaos item berkerah, dan Celana kotak-kotak kecil abu-abu .. nice. Mas Dika juga keren loncat-loncatnya. Catet! Donnie suka joget-joget sendiri ditengah-tengah lagu.
Tour Softex ini ditutup dengan "Karena Wanita". Wuaduuhh .. kurang nih, gak sepadan sama waktu nunggunya. Tapi setelah diinget-inget, mereka bawain 12 lagu ya? Meskipun terkesan buru-buru, sambung menyambung menjadi satu. Kenapakah?
ADA Band
Kesimpulan konser kali ini, jauh lebih nyaman dari di Bogor. Ukuran panggung lebih kecil, kayak panggung 17-an deh. Arena penonton yang lebih luas dan lebih "indah" jadi nilai plus. Pager pembatas yang kelewat tinggi tetep unacceptable, harusnya bisa membaca peta penonton. ADA adalah band yang mayoritas penontonnya PEREMPUAN, which is kecenderungan untuk anarkis JAUH lebih kecil. Apalagi di Jakarta yang orang-orangnya lebih JAIM (nonton acara beginian sih pake jaim). Ketakutan ada yang loncat ke panggung malah jadi alesan yang mengada-ngada, apalagi waktu di Bogor yang tiba-tiba naek panggung dan foto sama Donnie malah pake TAG PANITIA.
Gue bukan orang yang suka pada opening act yang sampe DUA band, dan bawain LEBIH dari 3 lagu .. Hello Yello Mello! … we are here to watch ADA, not opening act yang kelamaan. Konser kali ini sih, complain lebih minimal meskipun tetep ada .. heheheh … Semoga kota lain lebih baik deh, jadi para armada daerah gak harus kecewa karena EO yang gak asik.. *pisss* .. Intinya gue pulang dengan senyum. Puas bisa nyanyi kenceng-kenceng, puas bisa leloncatan lagi, puas dengerin ADA yang maen keren malam ini. Yes. I definately had Fun That Nite, meskipun as a result, kaki gue kram-kram sampe hari ini!
27 responses to "a Nite in LaPiazza"